Top hunter prospects
Pendleton, IN
765-644-8881
765-228-6582 (c)

fallcreekfarm@
hotmail.com
Breeding Top Warmblood Hunters
Links
Hunter Futurity
Hanoverian
The Sequel (1986-2002)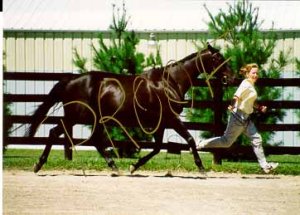 The Sequel (Tuffy) is a 1986 Black Thoroughbred mare; 15.3 h She was shown successfully as a hunter on the A circuit until recently when she became a full time mom. Tuffy was a consistent winner in the under saddle classes and passes this daisy cutter movement on to her foals. She has produced 4 foals, all of which are lovely movers with incredible dispositions.
Tuffy's 4 yr old gelding, Illusion, by Hanoverian stallion Gonzo was Pre Green Hunter Champion in Wellington (Feb 2002). He is a gorgeous mover and has beautiful form over fences.
Tuffy's '99 filly, Pretoria, is by the Grand Prix Hanoverian jumper, Pikadero. Pretoria, , is a gorgeous mover with a wonderful disposition. She will be competing with her new owner Mickey Sullivan of Thousand Oaks, CA and her trainer Mark Watring. Tori has also had 2 foals in 2004 via embryo transfer.
Tuffy was bred to Don Alfredo (Elite Hanoverian stallion) for her 2000 foal, Donzi. Donzi is fully nominated for the International Hunter Futurity and is an incredible mover. Donzi has her mothers disposition and great movement. Donzi is already the winner of numerous IHF competitions and hunter breeding classes.
In February of 2002, one week before Tuffy was due to foal, we tragically lost our beloved Tuffy and her colt to a rare pituitary tumor. We are greatful that her heritage can continue through her 2 fabulous filles who have already produced 4 foals!