Top hunter prospects

Wabash, IN
Wellington, FL
317-937-5543


fallcreekfarm@
hotmail.com
Breeding Top Warmblood Hunters
Links
Hunter Futurity
Hanoverian
Pikture Perfect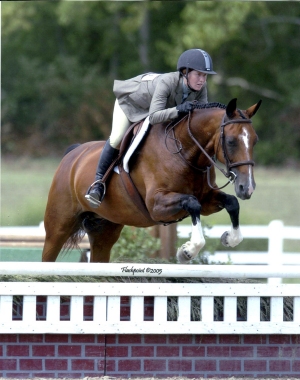 Pikture Perfect (Pita) is a '96 Registered Hanoverian mare by Elite Stallion Pikadero. Her first class bloodlines also include her dam sire, the famous Hanoverian, Lukas. In addition, her dam side boosts an entire line of States Premium mares! With four white socks and a white blaze, Pita is "Pikture Perfect"! Pita is a beautiful mover with a lovely disposition. Pita is broke to ride and shows much natural athletic ability. Like her sire she has fantastic form over fences and a very desirable disposition. At her Hanoverian mare inspection, Pita was given the top score in a large group of mares. The Hanoverian judges gave Pita high marks for her type, correctness of movement, impulsion and gorgeous head. Because of her score of 7.8, Pita is eligible for Elite Mare Status, after completing a performance test in the future.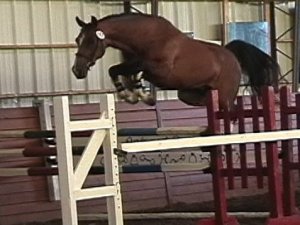 Offspring: Pita's first foal was born 3/28/01. Dress Up is a gorgeous chestnut filly by the Elite Hanoverian stallion Don Alfredo. "Tootsie" was the 2007 Amateur Owner champion for the Hanoverians! She has had numerous wins in the A/Os as well as the 1st and 2nd year greens and qualified for the Hunter Derby Finals in 09. Her full sister "Dream Up" and Don't Laugh have big shoes to fill.
Pita's second foal, Gilda, by the Elite Hanoverian Stallion Grusus was born April 4, 2002. Gilda was champion of the 2 yr old fillies and overall champion of the 2 yr old division. Video of Pita in Baby Greens before starting her career as a mom.

'01 filly "Dress Up " by Don Alfredo
Multiple 3'6" Championships
Qualified for $100k USEF Hunter Derby

Sold
Congrats Jana & Patrick Rodes (TX)

'02 filly "Gilda"

by Grusus

Sold
Congratulations Barb Jarboe (KY)

'06 filly "Dress Up"

by Don Alfredo

Sold in-utero
Congrats Jana & Patrick Rodes (TX)


'07 filly "Don't Laugh"

by Don Alfredo


Sold in utero
Congratulations Debbie Dawson (CA)

'08 filly "Westside Story" by Westporte

Sold in-utero

Congratulations Eureka Knoll Farm

'09 filly "Badabing!" by Black Tie

'13 filly "Oh My" by Oby One Latour

For Sale
Pita: July '00